Membership at OYS brings more than just a place to keep your boat. We are the club in Oakville with a passion to sail, whether it be to race or cruise, we love to sail.
OYS is a member of Ontario Sailing and Sail Canada. Our regular club keelboat racing programs include Wednesday and Thursday night racing series (PHRF-rated flying and non-flying sails, and one-design fleets for J-27s, Etchells and C&C 33s) and spring and fall series. OYS members are entitled to participate in Lake Ontario and international competitions and regattas. OYS also hosts an annual regatta in early August that attracts sailors from many different locations. The regatta has also included the J-27 North American Championships for the last few years.
Our cruising program includes organized trips to various clubs around the lake. As a member of OYS, you also have exchange privileges to visit clubs participating in the reciprocal cruising program.
If you do not have a boat and still want to sail, the Borrow-a-Boat (BAB) program may be right for you. We have four keelboats (2 Sonars, 2 Capri 25s) which are made available to full and associate members who do not have their own boats. For more information on how the BAB program works and how to join the BAB program, visit the BAB page at Borrow a Boat Program.
We also boast one of the best equipped sailing schools on the lake, and have produced Olympic calibre sailors. Participants do not have to be members to take the courses, but your kids or grandchildren will thrive in the upbeat program. Junior and adult sailing school programs are also offered at OYS, as well as racing training courses on dinghies and keelboats. For more information on the sailing school programs, visit the sailing school page at Sailing School Programs.
Our wet and dry moorings are awarded on a seniority point system.
Points are awarded to Full, Intermedia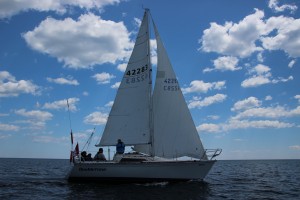 te and Junior members for each year at the club, including the application year. Wet moorings for keelboats are available to Full and Intermediate members based on seniority and availability. Wet moorings are Mediterranean-style and are equipped with electrical power and water hookups. The Town of Oakville has set a 38-ft limit on boat length in Oakville Harbour.
Dry berths are located on OYS property. Dry berths for keelboats are available to Full, Intermediate members based on seniority and availability. Dry storage for dinghies is also available to Junior members. A Small Craft membership is also available for those who wish to store sailing dinghies, paddleboards, kayaks and other sail or human powered small craft.
A 1000 lb mast crane is available to members for stepping/unstepping masts. Dry sail boats including Etchells, J22s etc., are deployed using our 4000 lb launch crane.. Dingy boat launch ramps for small craft are available during sailing school season. All boats that have a Squadron wet mooring are guaranteed a winter storage spot. Winter mast storage is available on site. Storage of folding cradles is available to all Full and Intermediate members, regardless of where your boat is moored, at no extra cost. Your winter storage fee includes self help haul-out, bottom wash and launch – there are no hidden fees.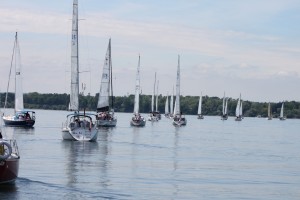 There are various membership categories (Click here for a detailed description of membership categories available to new members, and associated fees). We are a self-help club where our existence relies on its membership to help in any, and every way they can.
If you have (or are thinking about acquiring) a sailboat for wet or drysail mooring, you may apply for Full membership and accrue seniority points towards a mooring at OYS. If your boat is longer than 38 feet and/or you choose
to moor your boat in a harbour other than Oakville Harbour (e.g. Bronte Outer Harbour Marina), you may apply for Full membership/other harbour (FOH) at a reduced rate. If you are below the age of 29 years and wish to accrue seniority points toward mooring or drysailing your sailboat at OYS, you may apply for Intermediate membership. All Full and Intermediate members must perform at least 15 hours of club-related volunteer work as a condition of membership.
If you are between the ages of 9 and 22 years, you may apply for Junior membership. Junior members accrue seniority points at half the rate of Full members.
If you do not have a sailboat (or your sailboat is located outside Oakville Harbour), you may apply for Associate membership. You do not accrue seniority points or voting rights, but you do enjoy all of the other membership privileges, including full use of the club facilities, invitations to club functions and an opportunity to rent the club facilities for a private function. Volunteering at OYS is welcome and encouraged. It's a great way to meet new friends and learn about the club.
If you wish to join the BAB program, you may apply for Full, Intermediate or Associate membership including BAB. Full members in the BAB program accrue seniority points towards a mooring at OYS.
Come join in on the fun, and let your passion grow.
2018 Membership fees and 2018 OYS Membership Application Form
Payments can be made via Paypal to paypal@oysqn.com
Please feel free to contact the Membership Director for more information.
E-Mail membershipdirector@oysqn.com