OYS has a vibrant racing program. Each Wednesday and Thursday more than 30 boats head out to the racecourse to enjoy spirited competition.
Our skippers are always looking for an extra hand to help out.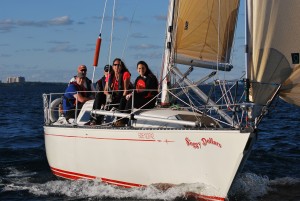 OYS races flying sails on Wednesday and non flying sails Thursday nights. The first gun is 6:50PM. People arrive about an hour early to prep the boats and head out for the first gun. When the wind is on shore we need to leave the dock a bit earlier. Curfew is just before sunset. We attempt a race every day, We will go out unless there is a thunder storm. Zero wind can mean the race is abandoned on the water. The weather network forecast is NOT a good indicator of the conditions off Oakville harbour. Local conditions here can be very very different from 30 KM away. If you have your own gear please bring it. Life jacket, gloves, rain jacket, non marking shoes, sun block, hat… It can be cool out on the lake, pants and extra layers are a good idea. After the race the Bar is open and there is BBQ food to buy. To be listed on the OYS Crew Bench as either a potential sailor looking for a ride or as a skipper looking for crew, post a comment below.
Sign up for the OYS Crew Bench: