Getting here
The Oakville lighthouse (FR) on the south end of the east pier is N 43 26 21.9 W 79 39 56.5 – follow the signs to the visitors' dock, to port about half way to the first bridge.
Getting to OYS by other means: Take the QEW to Trafalgar Road and head south. Make a right turn onto Lakeshore Road and proceed to Forsythe, the first light immediately after the bridge. Make a left onto Forsythe, then immediately left again onto Francis. OYS is the large blue building directly ahead. [MAPS]
 Arrival and Registration
Upon arrival visiting we request you to contact the Officer of the Day and register your boat in the VISITORS SIGN IN BOOK located in the brown shelf at the Patio Door. If no Officer is on duty, please identify yourself to any of our members or at the Sailing School.
Club Privileges
The privileges of the Club are extended to visiting yacht owners and their guests. Please present a valid membership card identifying yourself as a member of a reciprocating yacht club and/or the Canadian Yachting Association. If you are from a reciprocating club you may take advantage of our reciprocity arrangements.
Docking
You will be assigned a slip on a space available basis. While we appreciate that many clubs charge for a second night and others have adopted the position of "we charge you what you charge us", at OYS we have resisted the notion of charging our visitors. As long as space is available, you are welcome at OYS.
Rule Number One
Relax and have a good time. Don't worry about rules and regulations except for our House Rules. We sell club ties, but we don't insist that anybody actually wear one.
Dress Code
Please see rule number 1.
Children
Since children represent the future of our club (and yours) we treat them as a resource. They are welcome in our club as long as those under 12 wear life jackets on the docks, listen to their parents and have fun.
Clubhouse
The main clubhouse contains a bar, the Tempest Lounge with ping pong and a pool table, kitchen facilities and an exchange library. On cool evenings you are invited to snuggle up around the fireplace. There is a senior lounge (the Crow's Nest) above the washrooms. It has comfortable chairs and an elevated deck from which to watch the goings on in the harbour.
Washrooms
Our guest washrooms are located on the north end of the clubhouse, facing the creek. These units are complete with private showers.  An additional washroom facility is located inside the Crow's Nest building.
Swimming
We do not have a pool. The Town of Oakville has one just up the creek on the east side, next to the library. For hours of operation, please call 905-844-1381.
Ping Pong & Pool
Please make use of our ping pong table and pool table. Both can be found in the Tempest Lounge in the Main Hall.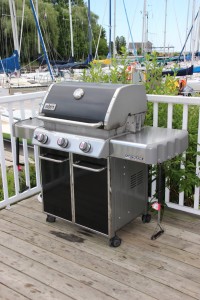 Tennis
We don't have tennis courts either. The Town of Oakville has courts on Reynolds Street, about a 15 minute walk through town, east from the harbour.
Picnics and BBQ's
We have gas BBQs which you are welcome to use. Please do not use rail-mounted BBQ on your boat or on the docks.
Laundry
The closest Laundromat is located 1 km west on Rebecca Street, just past Fortino's on Lakeshore Road West. (Ask for specific directions.)
Pump out
The Town of Oakville operates the pump-out just up and across the creek (on the east side). It is open Wednesday and Friday evenings 4 to 7, and Saturday, 9 to 1. At other times you can arrange for service by calling 905-338-4172. Also at Bronte Outer Harbour Marina.
Fuel
If you can't fit under the bridges, the nearest fuel is in Bronte, 3 miles west. Call Bronte Outer Harbour Marina at 905-827-7575 for their hours of operation.
Ice
Ice is available in the freezer on the north side of the clubhouse. $2.50 per bag. Please drop exact change in the slot marked for the purpose.
Supplies
The closest Beer Store is at Lakeshore Road West and Kerr Street, just a 5 minute walk west from the harbour. There is a Fortino's about a 5 minute walk west from The Beer Store. The closest liquor store is on Lakeshore Road East at Trafalgar Road, a 15 minute walk east from the harbour through the centre of town. There are also many specialty foods and other stores throughout the town.
Repairs
For engine repairs call G&B Sports Marine at 905-825-0561 or Richard's Custom Marine Service at 905-891-7236. For electrical service call Paul Thornton at 905-849-6277.
Souvenirs
You are welcome to purchase OYS articles such as our club burgee or other regalia. Ask at the bar for assistance.
Smoking By-laws
OYS is governed by Ontario Laws which designate certain areas where smoking is prohibited. Please see our diagram indicating permissible smoking areas.
____________________________________________________________________________________________________
If you have any further questions about the facilities at OYS, please contact the Club Coordinator at karenwykes@osyqn.com or call OYS directly at 905-338-9379.